Distractions and regional politics delay progress on Rwandan rebels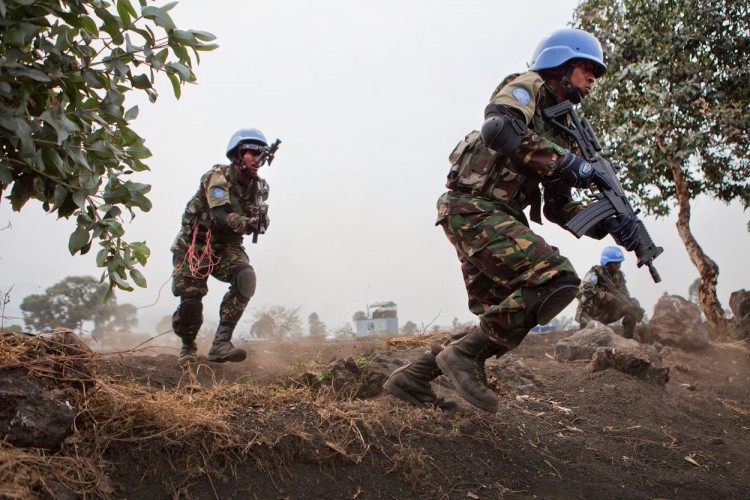 The Grand Congolese Bargain, as seen by many foreign diplomats, was supposed to be: Get rid of the M23 and the FDLR, and you will have removed the linchpins of the Congolese conflict. This approach makes sense, insofar as most other armed groups––as deadly and brutal as they may be––are extremely limited in their reach without regional backing. While it does not deal with the violent dysfunctions of the Congolese state, it could have been a useful first step.
Tanzanian Special Forces during a training exercise (Courtesy of MONUSCO)
Two problems initially arose: First, the Congolese army had other priorities in mind. They launched operations against the ADF in the Ruwenzori foothills in January 2014, informing the UN that other joint military operations would  have to wait. While the UN has the mandate to carry out unilateral operations, given the strength of the FDLR and the optics of going it alone, the mission decided to wait, instead lending support to the ADF operations. (Those operations are now bogged down in controversy, as well, as the ADF have come back to massacre dozens.)
In the meantime, there seems to be a splintering among the FDLR leadership, between radicals such as their overall commander General Sylvestre Mudacumura, President Victor Byiringiro, and spokesperson LaForge Bazeye on one side, and officers such as Colonel Wilson Iratageka on the other. This latter faction has sway over much of the FDLR forces deployed in South Kivu––perhaps a third of the total of around 1,500––and is also close to a new alliance of Rwandan opposition parties, the Coalition for Rwandan Political Parties for Change (CPC), led by former Prime Minister Faustin Twagiramungu.
The Congolese government, the UN, SADC, and the ICGLR all say that a military offensive will begin in the early days of January if the FDLR does not disarm. We'll see if they live up to their word. In the meantime, efforts are underway by diplomats to see if a military confrontation could be avoided––the last major operation against the FDLR in 2009-2011 displaced over a million people––not through a chimerical government of national unity in Kigali, but by organizing the defection of senior FDLR commanders and their exile in third countries.
For now, a surfeit of possible solutions, and a complete lack of actual progress.